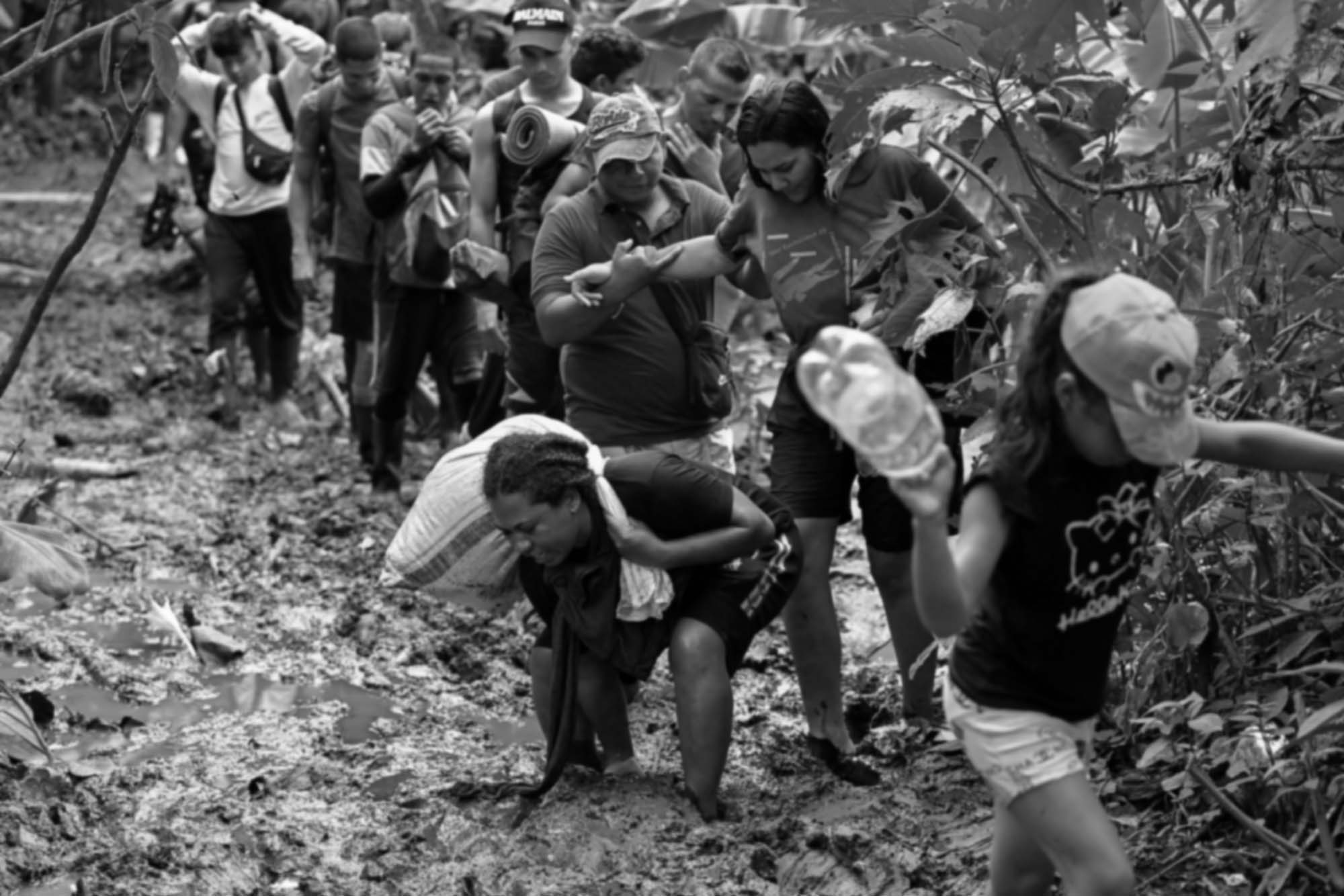 Even here, at the home of María Sabina, one is made to exit through the gift shop. But nothing fancy. The famed Mazatec shaman's 25-year-old great-great-grandson Andrés leads me into a small hut near the entrance to the compound. The slats of the walls slice daylight into thin grey wires that seem to want to bale us up inside, darkness and all. Outside, scudding clouds have blocked Huautla's spectacular vistas all morning long.
Andrés flicks a switch. A bare bulb keeps the tightening wires at bay, filling the room with light. Overhead hang five or six huipiles embroidered in the local style: pink and blue ribbons frame needlepoint birds and flowers inspired by the megadiversity that surrounds the seamstresses who made them.
He directs my attention to a low table bearing other embroidered things.
"Tenemos amuletos de protección, amigo, por ejemplo este de tabaco", he says. "En Latinoamérica tiene mucho uso del tabaco para desintoxicación, para purificación, protección."
He hands me a small woven pouch on a necklace of black yarn, yellow mushrooms stitched into it. It holds a plastic bag full of powder that Andrés confirms is the same native species he just showed me outside. Later, it won't be the leaves of that plant that I'll recall, but rather the little pink trumpets topping their stalks. I'll look at the pictures I took of them and laugh at how much more beautiful those flowers are than the dark gunk the leaves have surely left on my lungs.
Andrés tells me that this plant that killed my grandfather, that may have already done me in despite having quit, has protective and healing properties.
"Adentro trae San Pedro", he says, referring to the tobacco, which he adds has been ground up with dried garlic and a flowering evergreen plant called rue that, like the San Pedro, will likely kill you if you misuse it. "No se fuma ni se toma este. Para las malas vibras se carga".
Evil eye, bad vibes, menstrual cramps. He lists the qualities of the pouch, its various purposes. "Prácticamente es un recuerdo. De Huautla. De la casa. Si quieres llevar algo a tu novia, un familiar".
I buy the pouch for fifty pesos. My wife likes to know she's there in my thoughts when I'm away.
It pleases her when I get home a couple days later. She likes the fact that I can't smoke the San Pedro inside it. There are days when I should probably take it from where it hangs on the wall and put it around my neck, but I never think of it in the moment and instead pass the day cursing until the house stinks of my rotten attitude.
#
In 1901, as Doña Margarita Magón lay on her deathbed, a representative of the dictator Porfirio Díaz came to her with what sounded like good news. Her sons Jesús and Ricardo Flores Magón were soon to be released from prison.
"Enrique," she said to her youngest son, who was with her in her final moments, "parece que he juzgado mal al presidente".
Díaz had tossed the older Magón brothers into Mexico City's notoriously dangerous and unhygienic Cárcel de Belén and shuttered their newspaper Regeneración after a 25-year-old Ricardo called the Díaz government a "den of thieves" at a conference of liberal leaders in San Luis Potosí earlier that year.
There was just one catch to their release: "El presidente sólo quiere que le pida usted a sus hijos, como última voluntad, que dejen de atacarle", said the visitor.
Enrique later told biographer Samuel Kaplan that the lights the initial news had lit in Doña Margarita's eyes went out when she heard this. She fell silent for a moment, appearing to her son to be gathering strength for what may have been the most difficult thing she had ever had to do.
"Dígale al presidente Díaz que escojo morir sin ver a mis hijos," she said, stunning the president's man. "Y, es más, dígale esto: prefiero verlos colgados de un árbol a que se arrepientan o retiren nada de lo que han dicho o hecho". She died before the night was through.
The Mexican Revolution's most unsung hero was not hung from a tree. Ricardo Flores Magón died 21 years later in a jail cell in Leavenworth, Kansas, the night before he was set to be released. Fellow inmates told Enrique it was well known that the captain of the guards, a large man nicknamed El Toro, strangled Ricardo in his cell after the dissident had oddly been separated from his cellmate that final night.
Exactly 100 years to the day later, I document a march in Ricardo's birthplace: Eloxochitlán de Flores Magón, Oaxaca, a half an hour's drive from Huautla. Although his anarchist philosophy was overshadowed by the heroic caudillismo of Revolutionary icons like Zapata and Villa, his legacy is gaining traction a century down the road. The president dubbed 2022 the "Año de Ricardo Flores Magón, Precursor de la Revolución Mexicana".
Seven men from here are in jail on what their families say are false murder charges.
No evidence exists to prove that these men committed the murders for which they stand accused. Nevertheless, they remain incarcerated thanks to Mexico's mandatory pretrial detention system, some of them for as many as six years longer than the statutory two-year limit.
There is data, however, to demonstrate that municipalities administered by the communal system of governance and land ownership known as usos y costumbres — which the political prisoners wanted for Eloxochitlán — have seen larger decreases in rates of poverty and extreme poverty in the past decade than those led by political parties.
Both besuited in the capital and in guayabera in the rural towns that love him for the highways he's built, the president promises that he is transforming the country into something better. He speaks for hours each day, says categorically and conspicuously untrue things like violence and migration are down in Mexico. In shelters from Tijuana to Juárez, I've spoken with several families from Guerrero, Michoacán, Zacatecas and Aguascalientes who tell a much different story.
The term "presos políticos" serves the president well on the stump and on social media. It's an easy win, fits the narrative. Another debt of hope that remains in arrears, and the creditors don't even realize the bill is due. The president won't talk to the prisoners' families, or to journalists like myself whose requests for a pass to his daily morning press conference are unfailingly ignored.
On this, the 100th anniversary of Ricardo Flores Magón's death, Jaime Betanzos and six other adherents to his anarchist philosophy have been locked up on trumped-up charges for nearly eight years. In December 2018, Mexico's Senate recognized the injustice against Betanzos and the others, calling theirs "un caso de criminalización selectiva, caracterizado por la judicialización de conflictos sociopolíticos a través de la fabricación de delitos graves".
I've yet to find one member of the president's party who is aware of their case.
#
The things we name with nouns never have a fixed intrinsic quality. The products of our use of things are inevitably shaped by that use. The mushroom that drives the hippie to shed her bohemian rags and go skinny-dipping in the waterfalls at the Puente de Fierro has for centuries drawn the Mazatecs up the hill in Huautla in the opposite direction. They keep their clothes on. They ingest the fungus at night, crowded into darkened huts. No blacklit posters of the sacred geometry on the walls, no Jimi Hendrix on the radio. (Note: this is a generalization of the religious use of Psylocybe mexicana and the sundry other shrooms that sprout around Huautla. An anthropologist who has spent years in the town told me he has met several huautlecos who use them in their own ways — for artistic inspiration, for individualistic healing, or simply for fun.) How did the fungus end up having such drastically different effects on these two cultures?
Similarly, one man's hope is another man's tool of oppression. An objective, data-based analysis of the president's highly touted transformation of Mexico reveals that the country's institutions are just as corrupt or more so than they were under previous administrations. But try to tell a beneficiary of one of the various new social programs, and you'll receive a face full of insults. Recent data and surveys show that while violence in the country is at record highs, people feel safer than they have at any other point in the past decade.
And populist hope on this side of the border looks much different from the US brand. While the MAGA crowd spits a little every time they say "libs," down here "conservative" is a dirty word for those on the bandwagon. The president and his people celebrate leftist dictatorships in countries like Cuba and Venezuela, and harangue anyone who may have a different opinion after speaking with migrants from those countries as they camp on the banks of the Río Bravo. The populists up north pathetically cling to a farcical chimera in which those countries all but cease to exist, or at least stop knocking at the door.
"Hope is a very hard drug", a Mexican political analyst once told me. "And there's a point at which it stops functioning as something that inspires or as a light that can orient you in the darkness. It can end up blinding you to reality. Fuck hope. That kind of hope. It's not constructive at all. Quite to the contrary. It's complicit with destruction".
#
Temperatures are expected to flirt with freezing tonight. Still, there are at least two dozen more tents than yesterday. I find a group of chatty young men from Venezuela who are eager to tell me about their journey. Interestingly enough, the toughest part was not the thick, unforgiving jungle of the Darién Gap.
"Yo prefiero pasar por la selva tres veces que pasar por México," says Victor, a 31-year-old man with a quick wit and a zeal for using it to make his companions crack up. "Aquí en México, te humillan, por lo menos el gobierno, digo. Nos quiere el pueblo, pero el gobierno no".
Others who have come to see what the huddle is all about begin to chime in. "La migración me quitaron todo", one says. "Me quitaron un pasaporte, me quitaron el cel, me quitaron el permiso, lo rompieron".
Presidents on both sides of the border like to say that they're offering hope to people in tents, shelters, streets, jungles and deserts from here to South America. All I see is bad information, both mis- and dis-, and powerful people eager to take advantage of those who get caught up in the chaos that ensues.
"Nosotros venimos así porque es lo que dijo el presidente", says José, a 38-year-old father who has been camped here for 22 days with his wife and three kids. "Dijo que vengan los nicaragüenses, los cubanos y los venezolanos, y estando aquí en México, el 12 nos dijeron que ya está cerrado".
My president never said that. Migrant communication networks are rife with bad information. But he did wait until thousands were crossing the Darién Gap each day to manipulate their hope for political gain.
Michael, who is 40 years old and still in good spirits despite the observable fatigue in his face, agrees that Mexican authorities were the worst part of the trip. "Los animales temen al humano. Aquí no temen a nadie." Still, he says he lost all his toenails in the jungle from never being able to get his feet fully dry.
He digs into a pocket while others talk over each other to tell me their experiences and ask me what I know about the recent change in my country's sorry excuse for immigration policy that has forced them to set up camp here.
Michael then opens his palm to reveal a set of small, jagged half moons the color of rubble.
"¿Esas son tus uñas?" I ask just before Victor can cut in with a dig about Michael being a dinosaur.
"¡Eran!" Michael responds, eliciting an eruption of laughter.
I can't help but join the chorus: "Sí, amigo. Esas son garras, no uñas".
For a moment, our laughter drowns out the gravity of the situation, but the escape is short-lived. Before the sun goes down, I'll use an app to hail a cab back to my hotel in the safe zone surrounding the U.S. consulate. Michael will crawl back into his tent to shiver until it rises again.
"Y, ¿por qué las guardas?" I ask.
"Las guardo aquí pa' que la gente vea que el aroma no es mentira", he says, eliciting more howling laughter.
My WhatsApp messages stopped reaching Michael and Victor not long after our conversation. I'm not sure what happened to them. Some I met at the encampment crossed illegally a few days later. Others tried to wait it out. Many made desperate decisions in the cold desert night.
A father and son I met turned themselves in the night after we spoke, hoping for clemency. They were put on a bus to Mexico City, where we met for coffee the following month. They had worn out their welcome at the home of a compassionate resident of the city who had taken them in. Along with a lengthy message of well-wishes for the coming year, they sent me the following text on New Year's Eve 2022, just days before my replies went undelivered: "Con mucho amor para mis seres queridos, de José Luis y José Alejandro, distantes pero cercanos, un abrazo…"
I sincerely hope they're okay.
Cody Copeland is a Texan writer living in Mexico. He is the Mexico correspondent for Courthouse News Service, and has written about Mexico for The Guardian, Business Insider, Lapham's Quarterly, Rio Grande Review and more.